Icon Wireless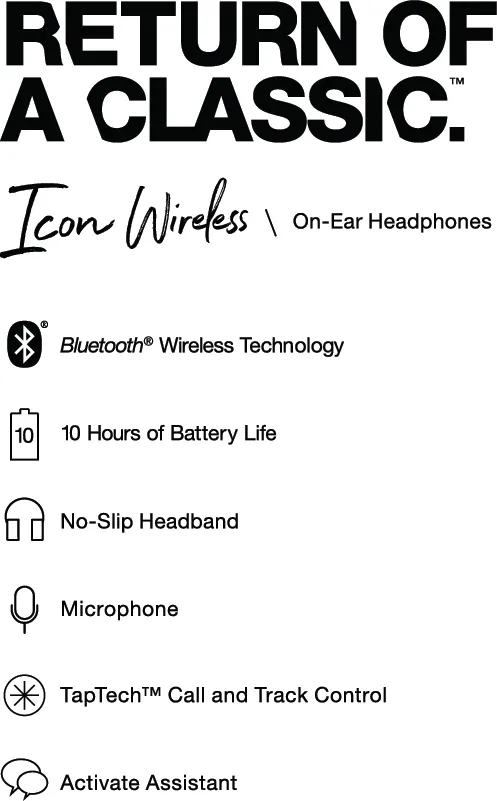 The Classic Is Back.
Without Wires
From 2006-2014, the Icon created a cult following in the snowboarding and skateboarding scenes for its simple, low-profile design. Originally released as a wired headphone, Icon now returns as a limited-edition Bluetooth release-free of wires.
TECH SPECS
Headphone Type: On-Ear
Connection Type: Bluetooth®
Impedence: 32 Ohms
Driver Diameter: 40mm
Frequency Response: 20Hz - 20KHz
Total Harmonic Distortion: <1% @ 1KHz
Weight: 106g
WHAT'S IN THE BOX?
Icon Wireless Headphones
USB Charging Cable
User Guide
2 Year Warranty Guide
Icon Wireless User Guide PDF
Walkthrough Video
User Guide Video
Icon Wireless FAQS
WHAT IS THE TOTAL CHARGING TIME FOR ICON WIRELESS?
4 hours
CAN I CHARGE THE ICON WIRELESS WITH MY PC/LAPTOP?
Yes. Any USB output will work.
IS THERE SOME SORT OF FAST CHARGE?
No
CAN I PAIR THE ICON WIRELESS WITH MULTIPLE DEVICES AT ONCE?
No.
WHAT IS THE BLUETOOTH RANGE OF THE ICON WIRELESS?
You may be able to listen up to 30m away from your paired device, though your connection experience may vary based on your environment.
CAN I CONNECT ICON WIRELESS?
Sure, or a phone, tablet, MP3 player, or anything else with either BT connection.
WHICH VERSION OF BLUETOOTH DOES THE ICON WIRELESS USE?
Version 4.1
CAN I USE SIRI/GOOGLE ASSISTANT/ALEXA WITH MY ICON WIRELESS?
Yes. Your native phone or device assistant will wake if you press the main function button twice.
WHEN ON A CALL, IS THERE A MIC ON THE EARCUPS?
Yes, there is a mic on the earcup.
CAN I USE THESE FOR SPORTS OR WORKING OUT?
Sure, but we don't recommend it because Icon Wireless does not have any of the features that Skullcandy's active-specific products have, like sweat or water resistance.
DOES ICON HAVE A WARRANTY?
Yep! 2 years. For more information, click
here

.